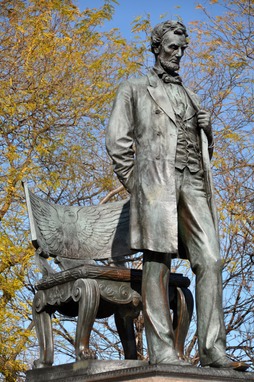 Lincoln Park, Chicago, Illinois.
Abraham Lincoln: The Man (also called Standing Lincoln) is a larger-than-life size (12-foot (3.7 m))  bronze statue of Abraham Lincoln, the 16th president of the United States. The original statue is in Lincoln Park in Chicago, and several replicas have been installed in other places around the world. Completed by Augustus Saint-Gaudens in 1887, it has been described as the most important sculpture of Lincoln from the 19th century. At the time, the New York Evening Post called it "the most important achievement American sculpture has yet produced." Abraham Lincoln II, Lincoln's only grandson, was present, among a crowd of 10,000, at the unveiling. The artist also created the Seated Lincoln sculpture in Chicago's Grant Park.
The sculpture depicts a contemplative Lincoln rising from a chair, about to give a speech. It is set upon a pedestal and, in Chicago, an exedra designed by architect Stanford White. Chicago businessman Eli Bates (1806–1881) provided $40,000 in his will for the statue. Saint-Gaudens was specially selected for the commission after a design competition failed to produce a winning artist. Saint-Gaudens, who revered the President, had seen Lincoln at the time of his inauguration, and later viewed Lincoln's body lying in state. For his design, the artist also relied on a life mask and hand casts made of Lincoln in 1860 by Leonard W. Volk.
The sculpture's naturalism influenced a generation of artists. The monument was also a favorite of Hull House founder Jane  Addams, who once wrote, "I walked the wearisome way from Hull-House to Lincoln Park ... in order to look at and gain magnanimous counsel from the statue." Journalist Andrew Ferguson  discusses the statue at length in his book Land of Lincoln, writing that the statue presents "a sort of world-weariness that seems almost kind". The City of Chicago awarded the monument landmark status on December 12, 2001. It is located near the Chicago History Museum and North Avenue.
Replicas of the statue stand at Lincoln Tomb in Springfield, Illinois; Parque Lincoln in Mexico City; and Parliament Square in London. The Parliament Square statue was given to Britain in July 1920. The American Ambassador made a formal presentation at Central Hall, Westminster, where Prime Minister David Lloyd George accepted the gift on behalf of the people of Britain; after a procession to Parliament Square, the statue was unveiled by Prince Arthur, Duke of Connaught.
Parliament Square, London, England.
Photo Credits: Wikimedia Commons: Andrew Horne (Lincoln Park); Sir James (London). 
Text Credit: Wikipedia - Abraham Lincoln: The Man.